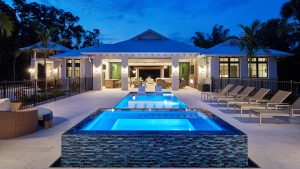 There are many unique and iconic commercial spaces built by PBS Contractors throughout Southwest Florida. Projects like the one in Bonita Springs, transforming the historic Naples – Ft. Myers Greyhound Track into the new Bonita Springs Poker Room and Brass Tap. That was phase one – now the new Sports Challenge America, phase II, is underway. Another example is the Holocaust Museum & Cohen Education Center, built to share the critical stories told behind those walls. There is the new, first of its kind, Popeyes off of Bonita Beach Road and #41 and, of course, the beautiful Woodruff Institute's three locations. The span of commercial sectors ranges from the arts to medical offices to education, such as the Seacrest Country Day School. Then there is Sunshine Ace Hardware on the East Tamiami Trail, the new Sunshine Ace underway at Founders Square, and the beautiful and unique St. Columbkille Catholic Church.  
PBS Contractors is an authority in commercial construction. It's where it all began, but over its 35 years in business, PBS has worked in some of Naples' most prestigious communities, renovating homes and condominiums into dream spaces for permanent and seasonal clients.  
These buyers come back to PBS Contractors time and time again, year after year. PBS is also known for its work and support throughout the community. The company's purpose statement is "We Build Better Lives: For our Team, for our Clients, and for our Community". The company lives by this purpose, and the team comes first for a reason. When Russell Budd, Founder, and CEO, defined this statement, he knew that if the organization were healthy, what the company would offer to the clients and community would be just as strong. He was right. The PBS Contractors team dedicates their time and resources to Collier County Sheriff's Office, David Lawrence Centers for Behavioral Health, Humane Society Naples, Farm-City Barbeque, and Big Brothers Big Sisters of the Sun Coast, among many others. 
For 35 years, PBS Contractors has been a stable and reputable company in Naples, Florida. While they have proven to be the authority in residential renovation and commercial spaces, they also build beautiful, luxury homes. Every aspect of how PBS Contractors has done business has been dedicated to fine craftsmanship, exceptional client service, and attracting an award winning team who can be trusted to be not only the contractor of choice but your Concierge Builder.