PBS Contractors proudly shares this milestone year with the team they built, the clients they serve, and the community they support.  What a journey and what an anniversary to celebrate!
It started with Russell Budd in 1981, who, with a crisp new Bachelor of Building Construction from the University of Florida, was ready to make an impression in Naples' construction industry. He worked for a local contractor and, in 1986, bought the company and renamed it Wall Systems.  Eventually, it transitioned to PBS and, throughout the years, evolved from commercial construction to residential remodeling to a luxury home builder.
He dedicated himself to the community, gracefully maneuvered through recession and pandemic, and 35 years later is a well-respected businessman, devoted family man, highly regarded community member, and beloved leader.
In 1991, Russell built the PBS office building on Corporate Square, where it still resides and continues to grow. When you walk through the doors of PBS Contractors, you see this quote painted on the wall:
Work for A Cause,

Not for Applause.

Live Life to Express,

Not to Impress.

Don't Strive to Make Your

Presence Notice,

Just Make Your Absence Felt.
It's an unknown author but powerful words that spoke to Kim Ortegon, CFO of PBS Contractors. In 1996 Kim joined PBS under the existing corporate accountant's apprenticeship, and she decided to put those words on the wall.  Successfully obtaining her Bachelors and MBA while raising a family and working full time, Kim devoted her expertise to PBS and will celebrate 25 years with the company in November of this year.
Her insight into that quote helped set the pulse of PBS and the company's unwavering integrity, proven when selected by the Uncommon Friends Foundation as the recipient of the 2018 Business Ethics Award.
With growth comes the attraction of good people.  In 1998, Bart Zino was moving to Florida from New York and talked to Ron Labbe, owner of Naples Lumber, about a job.
"Ron knew we were looking for a talented person and suggested that Bart come see us," says Russell. "He started with us as a Project Manager and soon assumed control of our estimating, project management, and field operations. As the company grew in size, Bart also grew professionally and is now one of our valued members of leadership."
Bart saw the advantage PBS brought to their clients and therefore spearheaded the decision to trademark the company as Concierge Builder in 2013.
Over the years, PBS continued to evolve its team, and Russell was determined to position PBS as an employer of choice. One example of this commitment was in 2019 when PBS Contractors became one of only two construction in Southwest Florida to earn the certification as a Blue Zone Approved  Worksite. Another worthy of mention is that in both 2018 and 2019, PBS achieved the coveted Employer of the Year Award from Child's Path (formerly known as Collier Child Care Resources).  They continue to hire the most talented people in the industry and have been awarded by Collier Building Industry Association with nine Sand Dollar Awards proving as much.
With a committed focus to provide excellence, PBS became a Florida Certified Master in 2019 and today is one of only two Certified Master Builders in Collier County.
PBS Contractors has built commercial buildings such as the Poker Room in Bonita Springs, is a preferred builder for discerning condominium residents and builds luxury homes. The company offers its team's expertise and support to impactful organizations such as The Holocaust Museum, Champions for Learning, David Lawrence Centers, The Shelter for Abused Women and Children, Humane Society Naples, and more. PBS Contractors has given stability to their tam, made its mark in the community, and continually strives toward excellence for the clients.
In June, 2021, PBS celebrated their 35th Anniversary. With this comes the wisdom knowing that those clients who choose to work with PBS deserve exceptional, personal service and knowing that working with a Florida Certified Master Bu8ilder will bring you an outstanding outcome.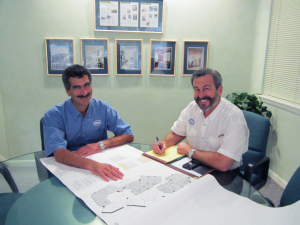 Please be sure to follow @pbscontractors throughout the year as they celebrate 35 years of building in Naples.