PBS CONTRACTORS COMPLETES RENOVATION FOR 
POPEYES LOUISIANA KITCHEN IN BONITA SPRINGS
NAPLES, FLORIDA, MARCH 23, 2022: PBS Contractors completed the renovation of Popeyes Louisiana Kitchen located in Bonita Springs. This Popeyes location offers customers drive-thru, take-out, and indoor and outdoor seating.   
Founded in 1972, Popeyes has more than 50 years of history and is widely known for its fried chicken and rich Cajun and Creole flavors. The fast-food chain has over 2,700 restaurants in the U.S. and around the world.  
"It is an honor and privilege to work with the Royal Family and their associates on the complete transformation of this building into the current prototype for Popeyes Louisiana Kitchen restaurants worldwide, says Andy Reed, Relationship Manager at PBS Contractors. "The franchise has such a long and storied history, and it is a pleasure to have more Acadian flavor and flair in our community. We hope everyone enjoys the opportunity to 'love that chicken from Popeyes' at the new Bonita Springs location." 
Although there are several Popeyes restaurants in Collier and Lee County, this location's floorplan and design is the first of its kind nationwide. It was built to support 95 patrons at one time, both in the interior and exterior patio area. The newly renovated restaurant is located on 28186 Tamiami Tr. and is open 10:30 a.m. to 10 p.m. daily.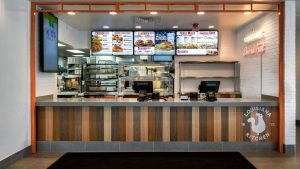 Visit our gallery for additional photography: https://www.pbscontractors.com/portfolio/popeyes-bonita/