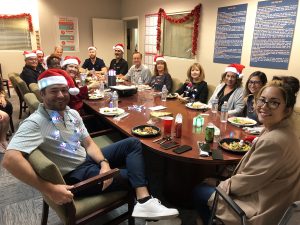 December comes with Season's Greetings and wishes for happiness and prosperity in the coming year. There is something special about this time of year that causes us to reflect on the year that is ending and turn our focus to the one coming up. This year certainly was a momentous one! Personally, I reached my one-year anniversary with PBS in what seemed like the blink of an eye. Professionally, PBS welcomed a new era under the leadership of Tim Dupre, who also reached his one-year anniversary. The community experienced the impacts of a major hurricane, the likes of which we hadn't seen in decades. 
 Under our new leadership, PBS renewed and doubled its efforts to Build Better Lives for our Team, for our Clients, and for our Community. We were named one of only 16 Best Places to Work in Southwest Florida, received nine Sand Dollar Awards (the highest form of recognition given by the Collier Building Industry Association), and named the Outstanding Philanthropic Organization Award by the Association of Fundraising Professionals. And we've only just begun as we strive to be THE employer of choice in Southwest Florida, THE premier Concierge Builder® in Southwest Florida, and THE best community partner in Southwest Florida. 
 We are growing; we are embracing change; we are investing in relationships; we are relentless about continuous improvement, and we are working on ourselves. If you are looking to enhance your construction career and want to be a part of the excitement, check out the Career page at PBScontractors.com. 
 The entire team at PBS wishes you and yours a fabulous holiday season and a momentous new year. 
 Come Build With Us!