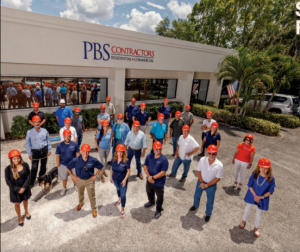 In 2022, PBS was profoundly honored to be named one of only 16 Best Places to Work in Southwest Florida by the Gulfshore Business Magazine. For 2023, we amped up our strategy and became a Certified Great Place to Work ®. What does it mean to be a Great Place to Work ®? It means that when surveyed, 97% of our team said they are treated fairly, encouraged to balance their work and personal lives, and their work has special meaning, it's not just a job. It means that all (100%) of our team members told us we create a safe work environment, we make new team members feel welcome, and they feel good about the way we contribute to the community. 
 PBS takes great pride in its high-trust, high-performance culture, which we promote and reinforce every day and in everything we do. We know that the only way to be a premier builder of luxury homes and Naples' only Concierge Builder ® is to build a strong team of professionals intent upon providing an exceptional client experience as we build or remodel their dream home.   
 This has been at the core of our mission for the last 36 years, but we also understand that what got us where we are today won't take us through tomorrow. That is why President & CEO Tim Dupre recently announced an organizational recharge designed to meet the demands of today and position us to tackle the challenges of the future. Under this plan, we created an executive leadership team that adds a Chief Operating Officer to oversee the Production Department, a Chief Marketing Officer, and a Chief People Officer to the Chief Financial Officer level. To ensure the appropriate level of attention can be paid to each unique aspect of our business, the Production Department is now divided into three divisions: Quality, Construction, and Field Operations. 
 PBS takes its commitment to the team very seriously. To be considered for any position in the company, you must first be a cultural fit – committed to the PBS Way of building better lives for our team, our clients, and our community and to the 28 Fundamentals that guide our daily practices.  
This is why we strive to fill positions by promoting from within whenever possible. 
 Check out our website at www.PBSContractors.com frequently to learn more about us and our culture; see the requirements and expectations of any open positions; and learn about our comprehensive benefits package that invests in our people today (unlimited PTO, Health Savings Account match) and tomorrow (paid long term disability, 401K match).  
 Successful applicants for any position demonstrate a high degree of collaboration and teamwork, proactive but blameless problem-solving skills, and empathy and compassion for team members, clients, and the community and (for our construction positions) bring with them a portfolio of successfully completed construction projects that met client expectations regarding quality, schedule, and budget. 
 If you meet these qualifications and are interested in joining our Great Place to Work ®, submit your resume through our Careers page. 
 Visit our Careers page: https://www.pbscontractors.com/careers/