PBS CONTRACTORS COMPLETES THE WOODRUFF INSTITUTE FOR DERMATOLOGY AND COSMETIC SURGERY
NAPLES, FLORIDA, October 28, 2021: PBS Contractors completed the major renovation for The Woodruff Institute's 10,000 square foot flagship location at the Bayfront Professional Center, Naples at 1333 3rd Avenue.  
The state-of-the-art dermatology office, designed by Coffman Design Group, provides services ranging from Medical Dermatology and Cosmetic Procedures to Mohs surgery in a luxurious space that feels less like a medical office and more like a spa. Offices feature high-end lighting fixtures, chandeliers, wood ceiling details, luxurious finishes, and accommodating waiting areas to provide the utmost comfort for The Woodruff Institute's patient clientele.  
"PBS Contractors has exceeded The Woodruff Institute's expectations with our dermatology office build-out. They were professional, efficient, and courteous. We are overwhelmed with the finished product and highly recommend PBS Contractors," says Rachel Coughlin, Practice Administrator.  
Andy Reed, PBS Relationship Manager, adds "PBS Contractors is honored to have partnered with The Woodruff Institute on this outstanding project. The clinical environment this renovation has provided is second to none as it relates to patient privacy and comfort and sets a new standard for medical practice facilities in Southwest Florida."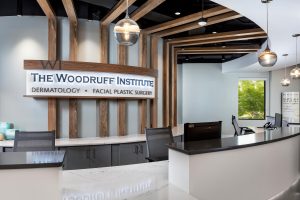 Visit our gallery for additional photography: https://www.pbscontractors.com/portfolio/woodruff-institute-for-dermatology-and-cosmetic-surgery/