PBS CONTRACTORS COMPLETES RENOVATIONS FOR CHAMPIONS FOR LEARNING
NAPLES, FLORIDA, November 4, 2021: PBS Contractors completed the renovations of the Frank and Ellen Daveler Center for Innovation in Learning at Champions For Learning. The Center provides a collaborative, multi-use space for teachers, students, parents, volunteers, and community partners to support one another.  
The Education Foundation of Collier County, doing business as Champions For Learning™, is a non-profit 501(c)(3) founded in 1990. Champions For Learning serves a unique role in bringing the community together to support a culture of learning and innovation.  
"Champions For Learning is an integral part of the educational fabric of Collier County. It was humbling to be selected to complete the Frank and Ellen Daveler Center for Innovation in Learning", says Mario Valle, Senior Relationship Manager at PBS. "Being a part of the design process from the beginning was especially rewarding because the outcome was exactly what we all hoped for."  
The official ribbon-cutting ceremony took place last week, and the facility is open. For more information, please visit:  https://championsforlearning.org/the-frank-and-ellen-daveler-center-for-innovation-in-learning/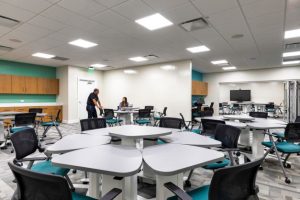 Visit our gallery for additional photography: https://www.pbscontractors.com/portfolio/champions-for-learning-phase-ii/