Our Trade Partners: They are More than Just Sub-Contractors
We must always start with the premise that everybody chooses where they go to work every day.
Our PBS team makes that choice every morning. When we get up in the morning, we decide that we are coming to 4395 Corporate Square because we want to be here. In their way, our Trade Partners wake up and make the same choice when they decide to come to a PBS job site. Within the Trade Partner organization, everybody that is working there is making the same choices. People decide where they want to work. Indeed, the person working for the Trade Partner doesn't have the same choices that the owner of the company has, but they make their preferences known in their own way. When a person shows up on the job site, we know pretty much right away if they want to be on your site or wish they were somewhere else.
Recognizing the fact that people have choices in their lives creates a duty to make them want to choose to work on a PBS Project and make PBS their job site of choice.
How can we do that? Well, it starts with respect, which is why we work with Trade Partners, not subcontractors. We are often led to believe that "subcontractors" are mercenary folks out there just to make a living. Trade Partners, on the other hand, understand that we are all in this industry together. Without general contracts, a plumber's world changes, and without plumbers, general contractors are going to have a hard time getting anything done! At PBS, we work hard to treat the folks that get the work done as Partners. We cannot forget to respect and honor their need to make a good living when they work with PBS. In return, we expect our schedules to be maintained, to have great communication, a pleasant work site, and to earn the very best our Trade Partners have to offer. We know it is a two-way street and that to be treated right, we must treat everyone right. To do this, we work conscientiously to:
Negotiate a fair price for a complete and unambiguous scope of work. We cannot look for unintended "bargains." We must speak up when a price-quote seems to be good to be true.
Have a job site that is ready for them and safe.
Have a plan of action laid out when they arrive.
Know our project well so that we can provide timely answers to issues and questions.
Show a genuine interest in getting their invoices processed for payment. It isn't as easy as it used to be. Electronic methods and means can make things much more efficient or incredibly frustrating when learning a new system.
Have clear procedures for getting people paid on a timely, reliable schedule.
We must say Thank You!
In the words of Chris Thrushman, one of our senior Field Managers, he goes to work and sets up his jobs so that all his Trade Partners have the best opportunity to be productive on his job sites! He wants them to choose to come to work for PBS because his job sites represent a great place to work!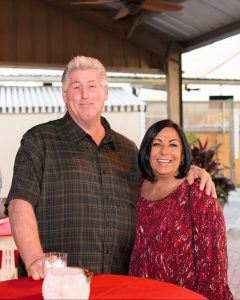 Chris Thrushman and his wife at our 2019 Christmas Party