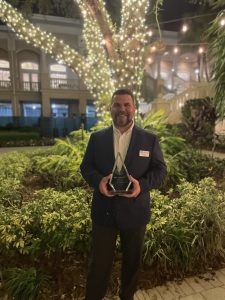 NAPLES, FLORIDA, NOVEMBER 22, 2022: PBS Contractors was selected as the Outstanding Philanthropic Organization by the Association of Fundraising Professionals: Collier-Lee Chapter on November 14 at The Club at the Strand.  
 Each year for National Philanthropy Day the Association of Fundraising Professionals (AFP) pays tribute to individuals and organizations throughout the U.S.A. that have made a difference in our lives, our communities, and our world through philanthropy. The AFP empowers individuals and organizations to practice ethical fundraising through professional education, networks, research, and advocacy. The AFP annual award program recognizes outstanding achievements by individuals, foundations and corporate philanthropists, fundraising volunteers, and fundraising professionals.  
 PBS Contractors is committed to excellence and Building Better Lives for our Community. We have partnered and provided services for over 20 local non-profits including, David Lawrence Centers, The Holocaust Museum & Education Center, Champions for Learning, Wounded Warriors of Collier County, Collier County 100 Club, The Shelter for Abused Women & Children, Golden PAWS Assistance Dogs, and others.