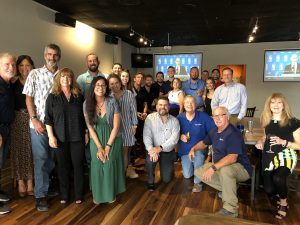 March is a month that celebrates Women on International Woman's Day (March 8) and Women in Construction Week (March 5 – 11), allows us all to be Irish on St Patrick's Day (March 17), offers renewals with the start of Spring (March 20), and here at PBS, it is FUN WEEK (March 27 – 31)! 
 Fun week occurs every 28 weeks when we reinforce the last of the 28 Fundamentals that drive our business and guide our decision-making. Fundamental #28 HAVE FUN ties together all the fundamentals, starting with Be Concierge, continuing on to Embrace Change and Celebrate Success. While all the fundamentals constitute our "source of truth," each week we focus on one. We talk about how we can incorporate it into our practices and make ourselves a better team, better service providers, and better community members. During FUN WEEK, we take a few minutes each day to connect with our teammates, remember what is most important in life, and just take a breather from the daily grind.   
 Is this a waste of time?  
Does it impact our productivity, commitment to our clients, or our schedules? It sure does! It improves it. Our purpose, our reason for being in business is to build better lives… for our Team, for our Clients, and for our Community. If we don't continuously take care of our team, ensure we have the best players who work cohesively toward common goals and make sure they know they are a valued part of something great, then we cannot fulfill our purpose. Happy team members are more productive and dedicated to providing high-quality work and honoring their commitments. 
 Does this sound like someplace that you would like to work? Read more about our Fundamentals and check out our open positions at PBSContractors.com/careers or send your resume to Careers@pbscontractors.com. We are always looking for A+ players to join our team.