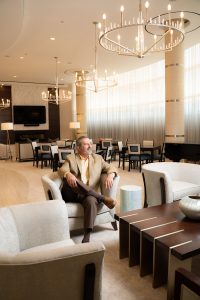 Our Founder, Russell Budd, was selected as one of Collier County's most influential business leaders in the Naples 100 annual magazine. The PBS Team is tremendously proud of Russell for this honorable achievement. We are thankful for Russell's continued leadership and Building Better Lives for our Team, for our Clients, and for our Community. 
 Directly from The Naples 100 Article: 
 Russell Budd 
Founder, PBS Contractors
A graduate of Naples High School, Russell Budd earned a bachelor's degree in building construction before becoming a state-certified general contractor. He founded PBS Contractors in 1986. PBS approaches each commercial or residential project by focusing on lifelong relationships. An active member of the Naples community, Budd has established a set of 28 fundamental practices known as the "PBS Way" to provide a stable company culture and excellent client services. 
 EDUCATION: University of Florida 
WHY I CHOSE THIS FIELD: I went to college for three and a half years as a marine biology major. In my senior year, I started looking at employment opportunities but there were limited opportunities in that field. Having worked my way through college in construction jobs thatI liked, I decided to change focus and get a degree in construction managen1ent. 
FAVORITE BOOK:I Read more than one book a week, but do not have one favorite. 
ADVICE TO 18-YEAR-OLD SELF: Manage your personal finances like a   business. A budget is a good start, but you will be rewarded if you take a more active engagement in your future. 
CHARITIES: Serves on the boards of Avow Hospice, David Lawrence Centers for Behavioral 
Health, Collier 100 Club, and Farm-City BBQ